Alaska Fishing Cabins
We have two cabins on-site at Discover Alaskan Adventures Service. Overlooking the Cook Inlet with spectacular views of the volcanoes and rugged peaks that line the west side of the inlet, this property is truly a home away from home. Complete with WiFi, satellite TV, indoor facilities, and full-size kitchen this property leaves nothing to be desired. During the day you can go fishing with one of the charter companies located steps away, wander through the streets and shops of Homer, borrow a fishing rod and explore the many local creeks for trout, salmon or steelhead, or just relax on the covered deck with a book. At night, grill up your catch on the BBQ, enjoy a cocktail on the deck, or chat with friends around the campfire. We have staff on call 24 hours a day to make your stay truly special. If these units are reserved we have access to 15 others in the Ninilchik area.
Guests do not share accommodations with other groups.
CLick Below for Availability
Illiamna Cabin – 3 Bedrooms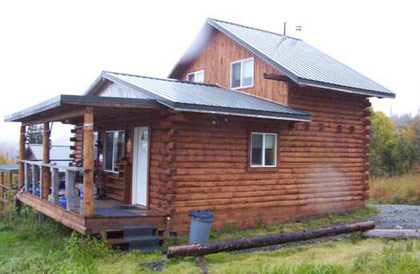 Daily Rate: $250 per night
3 Bedrooms (2 story unit with stairs)
Sleeps up to 6 people
Queen bed in master bedroom
1 twin bed in the second bedroom
3 twin beds in the third bedroom
Full kitchen
Satellite TV
Wireless Internet
Deck with BBQ
Inlet view
Access to laundry facility on-site
Redoubt Cabin – 2 Bedrooms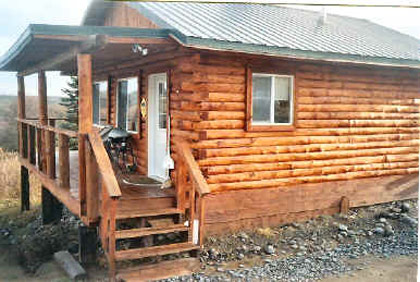 Daily Rate: $175 per night
2 Bedrooms (1 story unit)
Sleeps up to 4 people
Double bed in master bedroom
2 twin beds in the second bedroom
Full kitchen
Satellite TV
Wireless Internet
Deck with BBQ
Inlet view
Access to laundry facility on-site