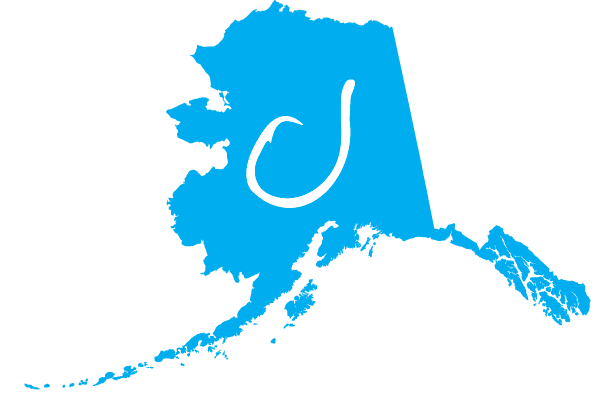 Ninilchik Fishing Charters with Discover Alaskan Adventures
Ninilchik Fishing Charters
Whether you are planning your "trip of a lifetime" or a local looking to fill the freezer, Discover Alaskan Adventures is here to help you achieve your goals of fun on the water and fish in your freezer!
Based out of Ninilchik, Alaska, Discover Alaskan Adventures is ideally located to fish the productive waters of Cook Inlet, and the Kenai and Kasilof rivers. Our diverse guiding experience allows us to offer a wide range of trips including:
Full-tide Halibut fishing
Multi-species saltwater trips
Full-day river trips for King, Sockeye or Silver salmon fishing
Fly-Out salmon fishing
Full-service R.V park on the bluffs of Cook Inlet
Luxurious cabins over looking Cook Inlet
Vacuum Package and freezing of your catch
Discover Alaskan Adventures offers action packed Ninilchik fishing charters & Kenai guided fishing trips.  We target large halibut when fishing out of Cook Inlet and we fish for King Salmon, Sockeye, and Coho Salmon on the famous Kenai River & Kasilof River.  Booking a Kenai River fishing guide with Discover Alaskan Adventures is unlike booking a fishing charter with other outfits. Our top goal at Discover Alaskan Adventures is to put you on quality fish. To accomplish that we don't commit to one species of salmon, one departure time or even one river to fish.  We commit to providing you the best possible day out on the river fishing for Alaska salmon.  Give us a call today to book a professional Kenai fishing guide or a Ninilchik halibut fishing charter.
Discover Alaskan Adventures realizes there are many great options when choosing a guide service for your Alaskan adventures. So why Discover Alaskan Adventures? More important than our Coast Guard inspected boats, the unique experience of the tractor launch, or our friendly crew is when you fish with Discover Alaskan Adventures you will be fishing with the owners. As owners, your experience, feedback and reviews are paramount to our success.
Please call us at (907) 567-3220 for availability and booking!